So who is Banksy? No one knows. Where's he from? Maybe Bristol, England. What is Banksy? That one we know.

He is a street artist originally connected with the Bristol underground music scene. His graffiti are usually painted overnight to be discovered on a wall in the morning. No signature, no explanation, and no tracks. Street artists often work at night and anonymously (remember Basquiat/SAMO?) because graffiti is illegal.
Banksy often uses stencils instead of freehand painting to shorten the time needed to finish a painting, a real plus when you are trying to hide from the police while you work. His graffiti, oil paintings, and prints often include political or social themes and witty or biting statements. For example, one of his murals at the end of a U.N. Climate Change Conference says "I don't believe in global warming" with the letters under water. He often travels globally to weigh in on local events or situations, like when his work popped up in New Orleans after Hurricane Katrina.

Below is one of the images he painted during his visit to the Palestinian territories and the West Bank wall.

Mural in Bethlehem, 2005. By ZaBanker – Own work, CC BY-SA 4.0, https://commons.wikimedia.org/w/index.php?curid=97142105

One of his works is a disturbing juxtaposition of iconic figures. "Napalm Girl," the naked nine-year-old we've seen running and screaming in pain in the Pulitzer Prize-winning Vietnam War photo, is flanked by Mickey Mouse and Ronald McDonald.

Banksy believes art in galleries belongs to high society, but art on the street belongs to everyone. Ironically, once Banksy became famous, his work became so valuable that his street paintings have been cut off walls so they could be sold. When his work is sought by high society, he ridicules the outrageous prices. On the second day of an auction where his work was selling at record-breaking prices, he put an image on his website of people bidding on a painting that said "I Can't Believe You Morons Actually Buy This Sh*t."

In 2013, he played with art values again when he set up a stall staffed by an elderly man next to souvenir stands on New York's Fifth Avenue.  The Banksy signed canvasses were priced at $60.  With such a high price for "SPRAY ART" on the street, tourists bought nothing in the first four hours. But one person who bought two of the canvasses auctioned them off for $214,000 the next year.

Exit through the Gift Shop

We've all been in tourist attractions that make us go through a gift shop to get out. So when Banksy directed a documentary, its funny title caught my attention. In 2010, Exit Through the Gift Shop premiered at the Sundance Film Festival and was nominated for the Academy Award for Documentary Feature. (Another art film was also nominated, but I'll wait to talk about that one in an upcoming post about my favorite art movies.) The entertaining movie follows Therry Guetta, who follows street artists, filming their late night activities. By chance, Guetta connected with Banksy and continued to document street art. When Guetta's lack of filmmaking skills became obvious, Banksy suggested he do an art show, even though Guetta hadn't made any art. I won't get into the details now (I'll save them for the movie post) but nonartist Guetta ended up selling almost $1 million of his art in one week.

In typical Banksy-project fashion, the film leaves us questioning whether the documentary is real. Was it a hoax, a satire of the art market? Or was it the true story of Banksy's creation, an artist-monster run amok? Following the theme of satire…

Art as Theater

Banksy created another painting in the Girl with Balloon series and mounted it in an ornate traditional frame, quite a contrast to the spray paint on canvas. He put it up for auction at Sotheby's in London. The low estimate was $258,000 and the high was $386,000. After free-flowing champagne, passed hors d'oeuvres, and art chitchat, the attendees settled down for the Contemporary Art Evening Auction on October 6, 2018, and bidding began for the Banksy painting at the back of the room. With a combination of bids from the floor and by telephone, the hammer dropped with a final price of $1.4 million, including the buyer's premium.

As the audience clapped, a loud beeping sound caught their attention. The painting moved down in its frame and half of it was shredded before their eyes. There were looks of surprise, horror, and amusement. Everyone wondered what it felt like for the buyer to lose a million dollars. The buyer decided to keep the painting, which got a new name, Love is in the Bin.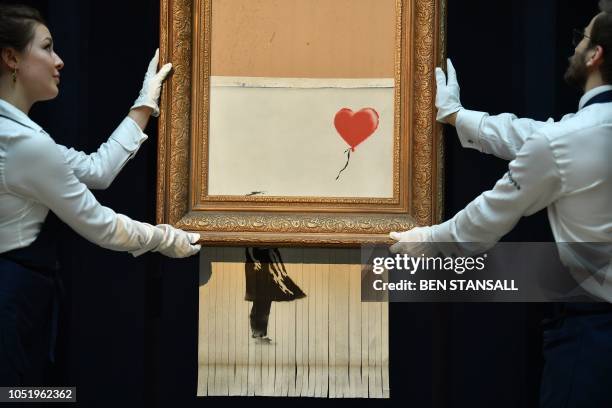 In a video, Banksy showed how he built the shredder mechanism into the frame, to be activated by remote control when the painting sold at auction. It was supposed to have been completely shredded into strips. Banksy made the best (maybe the only) auction joke when he wrote next to an Instagram photo: "Going, going, gone."

Banksy's prank was intended to ridicule outrageous art prices by destroying the value in an instant. But did the art world get the next laugh? Twelve days ago, the half-shredded painting was back on the Sotheby's auction block. This time it sold for $25.4 million. Looks like Banksy's pranksy backfired, another creation run amok.

Again the question: Was this real? Or was Banksy in cahoots with the auction house. After all, how could the frame's unusual feature not be discovered over the twelve years between painting and auction? And who plans a prank that only works if the painting gets auctioned and waits over a decade to push the remote button?

The New Superheroes

Until this month, Banksy's top price for a painting was $23.1 million. That staggering amount was paid in March at a Christy's auction for Game Changer. He painted and donated it to the University Hospital Southampton in May 2020 with a note saying: "Thanks for all you're doing. I hope this brightens the place up a bit, even if it's only black and white." After being on display at the hospital, it was put up for auction to raise money for the hospital and other charities. In the painting, Batman and Spiderman action figures lie in a trashcan as a little boy plays with the new superhero in the COVID age, The Nurse.