Oil barrels, a Medieval tower, the Kunsthalle, Chicago's Museum of Contemporary Art, the Australian coast, the Pont Neuf, the Reichstag, trees, and just last week, L'Arc de Triomphe. What do these things have in common? They have all been wrapped by Christo and Jeanne-Claude.
Christo and Jeanne-Claude

Christo Vladimirov Javacheff was born in Bulgaria on June 13, 1935. He started art lessons when he was six and studied at the National Academy of Art from 1953 to 1956. The Hungarian Revolution began when he was visiting Czechoslovakia, so he snuck into Vienna instead of returning home. In Vienna, and later in Geneva, he earned money by washing cars and dishes and painting portraits of wealthy women. In March 1958, he moved to Paris and set up a tiny studio. He collected boxes and cans, crates and barrels, that he wrapped in fabric and rope.
Jeanne-Claude Denat de Guillebon was born in Morocco on the same day as Christo. She also lived in France, Switzerland, and Tunisia, ending up in Paris. She and Christo met there in October 1958 when he was painting a portrait of her mother. Jeanne-Claude was engaged when she and Christo started a romantic relationship. She got married but left her husband right after the honeymoon. Several months later, she and Christo had a son and married in 1962. They first collaborated when they wrapped oil barrels and paper rolls with tarps and rope for a 1961 show in Cologne, Germany.
Why?

Christo never explained their work, but in a Sunday Times interview, he did say "We make beautiful things, unbelievably useless, totally unnecessary." A significant element of each project is that it is temporary. Except for being memorialized in photos, the project has a very short life. People can experience it for two weeks; then it disappears. Christo said, "I think it takes much greater courage to create things to be gone than to create things that will remain."
Berlin's Reichstag

Photo of Reichstag building seen from the former Königsplatz at night by Ansgar Koreng.
The Reichstag, Germany's parliament building, has a storied history. When I visited Berlin and looked at the beautiful building, I mostly thought about its being set on fire in 1933. A Communist was caught "red" handed, so the Communist party was blamed for the arson. Another theory says the Nazi party was behind the fire, to blame the Communists and justify a takeover. In any case, the German President, Paul von Hindenburg, declared a state of emergency and abolished freedom of speech, assembly, privacy, and the press, which was accompanied by over 4,000 arrests on the first night. A related Act gave all legislative power to Hitler, and we know how that ended. 

So seeing the Reichstag reminded me of its role in triggering one of the darkest eras in modern history. But a person standing before the Reichstag in 1995 when it was wrapped in fabric would have seen only a monumental silver shape. The building's history and significance, architectural details and purpose, would have been gone, trading an intellectual reaction for a purely visual experience. In a nutshell, wrapping transforms. 
How does this play out in the natural world, say when a coastline is wrapped? Here is a 1 ½ mile stretch in Australia wrapped in 1968 by 100 people using nail guns. 
The Process

Get the idea.

Make drawings with architectural detail.

Request permission for use of buildings or land.

Prepare for community pushback, objections to damage to the environment and structures.

Raise money.

Execute the project.
After Christo and Jeanne-Claude became famous, they could sell their project drawings to raise money. Steps 3 to 5 are usually difficult, so some projects never get realized. In those cases, the most we have is the drawings.
The Latest Project

The process can take a very long time. How long? Try sixty years! Last Sunday was the last day to see Paris's iconic L'Arc de Triomphe wrapped for sixteen days. But the idea was conceived in 1961.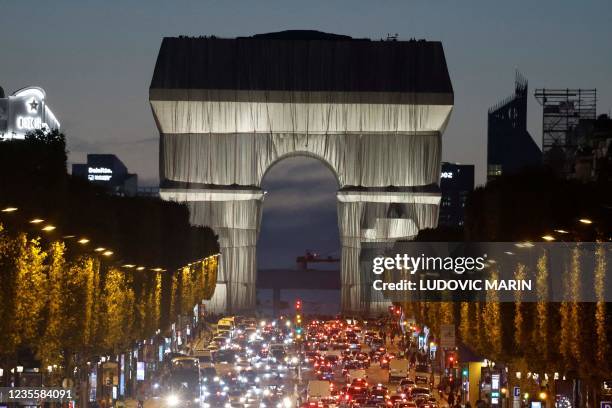 It used 30,000 yards of recyclable, silvery blue polypropylene fabric and 3,300 yards of red rope.  Wrapping is a costly project, about $16 million for the Arc, including installation.
Up for 16 days, you might say it cost $1 million a day.
Other projects

Christo and Jeanne-Claude created many spectacles that didn't involve wrapping. We looked at The Umbrellas on the coasts of California & Japan. Then there are the 7,503 yellow gates in New York's Central Park.
The eighteen-foot high Running Fence ran for 24 ½ miles in Sonoma, California. Getting this project done required eighteen public hearings, three Superior Court sessions, and a 450-page environmental impact report.
I wish I could have seen these projects. Still, it was interesting to see drawings, collages, photographs, and some wrapped objects when I visited a museum exhibition named "Christo and Jeanne-Claude: The Tom Golden Collection" in 2014. Since that exhibit, whenever I see photos of their projects, first I react to the visual impact. But then I think about the process and the tenacity needed to realize the concepts.
Jeanne-Claude died in 2009 and Christo in 2020. As L'Arc de Triomphe illustrates, their art lives on.